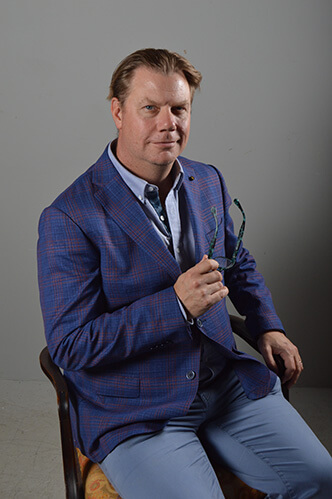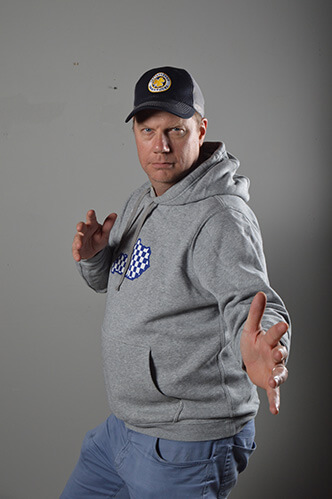 Peter Ashby (P.A.) Howard
Owner – Licensed Auction House Operator
A native of Louisville, Peter Ashby (P.A.) has over 20 years of experience in the antiques, fine art and collectibles field. A graduate of Colgate University (BA), NYU (MBA), and the American Arts Intensive Year at Sotheby's New York, P.A. started his career in the arts at Sotheby's International and sothebys.com in 1998 as a Furniture and Decorative Arts Generalist.
P.A. is a USPAP compliant appraiser and has extensive experience with European and American Furniture and Decorative Arts, 20th Century, Modern and Contemporary Art, Sports Memorabilia as well as Wine and Spirits.
P.A.'s Teams: University of Kentucky Wildcats, New York Yankees, New York Jets, Hamilton College Continentals Squash, Letterkenney Irish
P.A. is an avid gravel cyclist and squash player, he has served on the board of the Louisville Ballet since 2009.
Barry Glenn Thomas
Owner – Principal Auctioneer
Hailing from Louisville, Barry attended Atherton High School and the University of Kentucky, is licensed in Kentucky as a Principal Auctioneer (License #259654), a graduate of the Asheford Institute of Antiques (A.I.A) and a C.A.P.P. certified appraiser.
Barry brings over 14 years experience in the antique furniture field, most recently as the senior content editor of antique furniture, mirrors and clocks for online auction house EBTH.com. Having earned a reputation for furniture restoration and refinishing, Barry's knowledge of current antique markets and estate situations makes him an invaluable asset to those liquidating collections.
Barry is a veteran of the music industry, having spent significant time as a performer, before concentrating on music publishing and production.
Barry's Teams: University of Kentucky Wildcats, Dallas Cowboys, New York Yankees, East German Women's Synchronized Swimming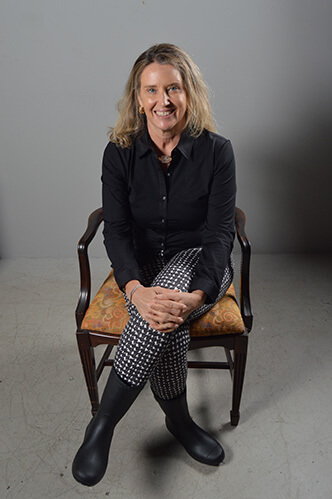 Johanna (Jody) Howard
Fine Art Expert and Customer Service
A native of New York City, Jody was tricked into moving to Louisville after P.A. brought her to his hometown for a succession of Derby Weekends. A graduate of Boston University, Jody started her career in the arts as a gallery assistant in New York after graduation and has not left the industry. An expert in Contemporary Art and Victorian Pottery, Jody's expertise extends beyond her studies into customer service and marketing.
Jody is a past president of the Kentucky Museum of Arts and Craft (KMAC) and has served on boards and committees at the Speed Museum.
Jody's Teams: New York Yankees, New York Jets, University of Kentucky Wildcats, Johnny Weir, Hamilton College Continentals Squash, and whoever Gronk is playing for. (Ask her to scream "Gronk make Touchdown!")
Jody is also an avid gravel cyclist, pilates guru and pickleball player.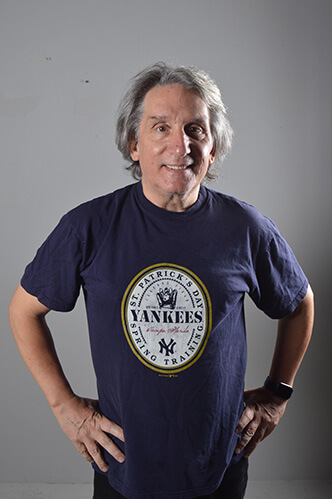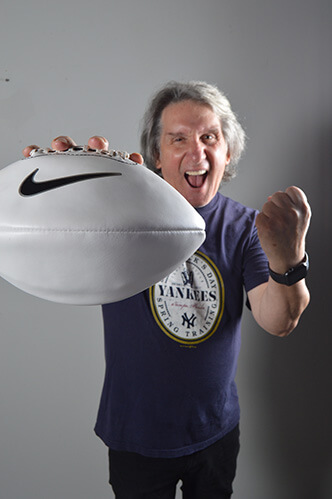 Dave Thomas
Warehouse Manager
Not sure where Dave came from, but he was there as we prepared for our first auction and we have not asked him to leave! Warehouse manager, photographer, cataloger of cards, registrar and notary, this guy can do it all. His knowledge of Tom Petty is legendary, he knows all of the minute details of every Beatles recording, he is a walking encyclopedia of vinyl records. In his spare time, he challenges his book club to play Disc Golf with him and argues with Woody about the Turkish Women's Volleyball League.
Dave's Teams: New York Yankees, New York Giants, Brooklyn Nets, Hartford Yard Goats, VakıfBank Spor Kulübü
Woodford (Woody) Ragland
Apprentice Sports Memorabilia Cataloger
Usually the smartest guy in the room…he enjoys math no one understands, he can dunk, he is nearly a concert pianist, just became a high jumper, has been known to wield a lacrosse stick and he has an encyclopedic knowledge of sports cards. Woody recently graduated from full-time Rec Specs to "more socially acceptable" Ray-Bans. Never one to shy away from a challenge, Woody is a jack of all trades at H&T, his real talent is in cataloging cards and in letting us know every small detail about the player, production, stats and value of the card. He may or may not just be with us to write a great Admissions Essay, we only have him until he goes away to college (we are working with his parents to have him redshirt and stay with us!).
Woodford is a star Hoops player in his spare time, is trying to create an algorithm to make perfect bets at Keeneland every time and is fond of spending weekends in Paris (KY).
Woody's Teams: University of Kentucky Wildcats, Some College Team in Louisville, Collegiate Titans, Collegiate Amazons, Eczacıbaşı SK Women's Volleyball Team.

Bidder Reviews
"Mr. Thomas reached out to provide additional shipping options. I was very relieved to have the shipping issue resolved. The private company he directed me to did the job well and charge a reasonable price. I will bid in Howard and Thomas auctions again with confidence that the auction house will be great to work with. I highly recommend Howard and Thomas."
"Howard & Thomas Auction House very helpful, responses timely, purchase and shipping process glitch free."
"The experts at this auction house are very knowledgeable and I was given quick responses and personalized service each time I have won items. Nice variety of offerings. Have been very happy with Howard & Thomas."
"Howard and Thomas Auction House is great, the communication was fantastic, they were very helpful with arranging shipping and the antique desk is in better condition than expected. They have exceeded my every expectation."
frequently asked questions
Do you have questions?
We have answers.